The Merits of Online Learning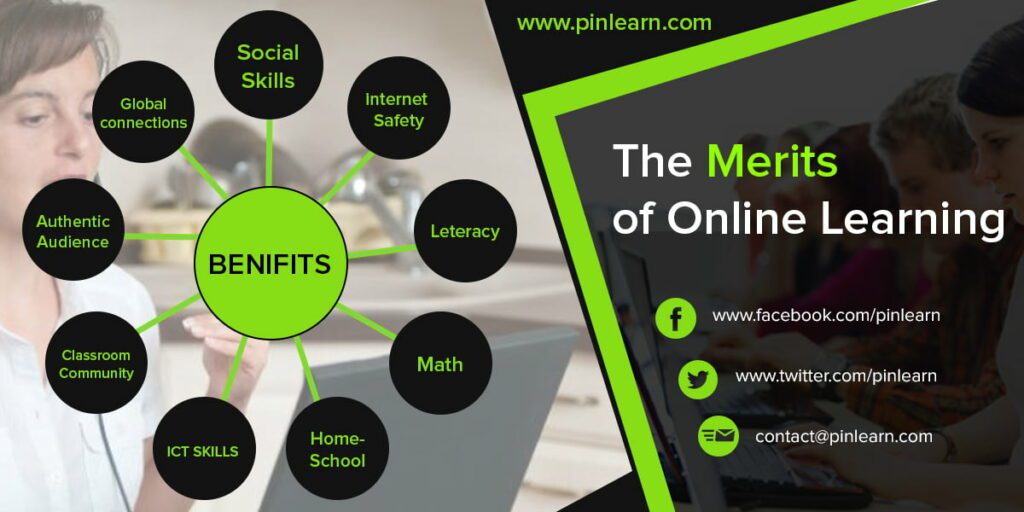 Everyone is using online learning these days in their own way. No one in 2019 is untouched by the charm of eLearning.
Do you remember when you referred to a YouTube video to fix an issue about your phone? Or when your manager asked you to read that blog by Neil Patel to fix the broken links on your site? Knowingly or unknowingly, you are exercising online learning at every point in your life today.
However, eLearning in actual sense is not just watching YouTube videos or reading blogs. It is not how actual how online classes work. It should offer a lot more if you comparing it with the traditional learning methodologies. Let me ask a question-
Do you think, watching videos or reading blogs can supplement what you can learn in your university's classroom? Are the advantages of online education limited to fixing your phone?
Of course not!
The benefits of online education I am talking about is beyond this. It's a complete adaptation of the traditional learning environment to the online media.
I am talking about the case when a learner is confident enough to drop an enrollment to a brick and mortar institute and finds the same course on Coursera, Udemy, or Khan Academy.
Why online education is better? Well, wouldn't you like if you don't have to quit your regular job to complete a course for skill enhancement?
Believe it or not, eLearning has become competent enough to offer you that kind of confidence and education. The Importance of online education is multi-faceted.
For skill training institute, you can create a platform like Udemy and offer online learning platform, while taking your business to the internet medium.

If you run a business and has been conducting corporate training programs to train your employees, you can implement an online learning management system and transfer all your corporate training programs to it.

If you run a school or college in the brick and mortar model, you can implement blended learning to offer the best in class education to your students.
I can give you N numbers of ways how online classes work to extend traditional learning methodologies and make them more accessible and more efficient. There are certain advantages of online education that make learning as well as teaching available to all.
I can encourage you in N number of ways to conduct online classes instead of using classroom sessions as the only way to teach students, train corporate employees, make money as a tutor, or learn a new skill easily.
Reason 1. On-The-Go Learning
The trouble with conventional learning is its geographic limitation. You must be in a specific physical classroom to attend a session. Never mind that there's a bus strike or it's raining or your car broke down along the way. Unless you're there physically, you cannot learn.
On-the-go learning allows learners at all levels to engage in a classroom or a discussion remotely with online learning software. You don't need a particular kind of device to access a session. With the fluidity offered by eLearning courses today, eLearning companies of all sizes are quickly adding device-agnostic frameworks to their technology stack.
Pinlearn, for example, is a superior turnkey framework that allows eLearning brands to create courses for devices of all sizes using online learning software. So, whether the course you seek is offered by a known name or a name you haven't ever heard of before, there's a good chance that it will be available on your mobile, tablet and laptop.
The result? Your subway rides will never ever be boring again.
Reason 2. Learning for Interest
In earlier times, there was a whole process attached to attaining a degree at a faraway campus. You'd pack your bags, drive all the way up to the university with your parents in tow, check in to your hostel room and then spend the next four years on campus.
With the advent of eLearning courses, learning doesn't need to come with the paraphernalia attached to traditional education. Even the best and most complex of courses are now offered by some of the most renowned universities through most renowned online learning platforms and LMS solutions.
You needn't even use this knowledge in the future. It doesn't have to be a building block for a stupendous career. The course can stem from your inherent interest for a subject, quelling your curiosity in the comfort of your home. It doesn't matter whether you live on a remote island in the Bahamas or right in the middle of the Amazon.
All you need is an internet connection with the right online learning platform on your device.
Reason 3. Comfort and Convenience
We've all had miserable days back in school, nursing a horrid cold, or experiencing a shooting pain up your bottom thanks to your rickety wooden classroom chair. Online education lets you experience learning in a new avatar. You don't have to worry about thick, heavy textbooks and continual lessons.
Your notes will be digital and you can take breaks whenever you want. Plus, you save on the little things, like fuel, time and energy in reaching your classroom. It doesn't matter if you have a cold. Just switch on your computer and attend a live class through video conferencing. Trust me, your tutor won't get infected. Remember though, striking a balance is important for maintaining a healthy learning environment.
Maybe, you should trade in your bed for a comfortable chair and a sturdy desk, and you're all set.
Reason 4. Online Courses Stand Out On Your Profile
Regardless of whether you have five years' experience or twenty, online courses can add value to your resume. They will reflect your inclination to learn continually and hone your skill sets. When companies recruit, they don't hold virtual degrees in lower regard than conventional ones. As long as your degree is from a well-placed university, you're sorted. Whether it's an internal promotion or a lateral move, an online degree can improve your chances.
With online learning, we can shape a global community of learners and teachers. Like they do with MIT OpenCourseWare, any reputed institution can offer free access to quality of courses to global learners.
It doesn't matter if you are from the US or UK. If you have an internet enabled device, you can pick from a massive repository of online courses of your choice. A tutor in the US can teach a learner from Africa through an online platform.
It's proof that online courses are no less valuable than traditional courses.
Reason 5. Adaptive Learning
Most course archives on the internet come with a 'self-paced' option. This enables a user to move through a learning module at a pace suited to him or her. Classroom learning, on the other hand, expects all learners to move ahead at the same speed. A self-paced learning program allows you to learn at a measured pace, going back to concepts you may have had difficulty with. This is especially useful for learners who don multiple hats professionally and personally.
With an online teaching platform, you can learn from anywhere and at any time. It doesn't matter if the tutor has just finished the live lecture. You can always browse the recorded video-on-demand and revisit the session any time you wish to.
Benefits of online education are applicable to both tutors and learners when it comes to building an easy access point to attend a class.
Reason 6. Affordability
Traditional learning formats in higher education are tethered to exorbitant rates that usually warrant hefty student loans. The financial components of these fees often include tuition, accommodation, and food, amongst other elements. However, a virtual course with the help of an online learning management system charges only for the core knowledge component, automatically pulling down its price.
Many university-endorsed online courses come with financial aid facilities, so don't let your financial capacity hold you back. Better still, select universities even offer free courses, although these usually don't offer certifications. Explore the web to find courses that interest you; you'll find that they're more affordable than you think!
Using the advantages of online education, institutions can also practice blended learning and conduct online classes in parallel. With this online alternative, institutions can avoid unnecessary expenses and invest in developing effective courses.
When organizations won't spend far, they won't charge much from the learners as well.
Reason 7. E-Learning is green
Each year millions of tree are cut down to produce the paper used for teacher and learning. Let's not forget the CO2 released in the environment for producing the plastic used for making other stationary supplies. Perhaps, I should also add the fuel you would burn to visit the training institute physically. Moreover, the amount of electricity used to manage physical classrooms sessions is also ample.
Conducting online classes would save most of these expenses and damage to the environment. Take digital notes instead of paper notes for example. It's not much but something of importance considering how online classes work.
To Conclude
Online education offers you several benefits, all bundled into a unique proposition. The convenience, the cost, and the flexibility all outweigh those of traditional education. And with the arrival of technologies like Pinlearn, more companies are jumping on board. What's really amazing is that learning isn't only tied to mundane knowledge building anymore. It's available to those who want to pursue a passion, a hobby or a skill. And it's there for those who need it.