Top 10 Best Online Tutoring Software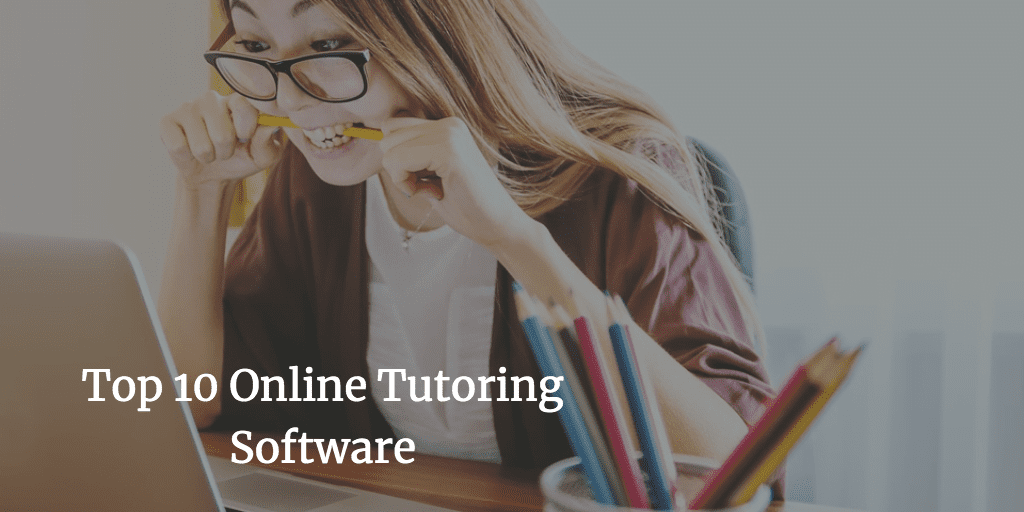 The world of teaching and learning is transforming. Technology has gradually motivated us to not only demolish the hurdles of the traditional education system but to also conduct seamless virtual collaborations irrespective of the geolocations. Thanks to the cutting-edge developments in both internet and online tutoring software technologies, education is no more limited to the walls of physical educational establishments. Today we have-
E-Learning platforms like Udemy, Lynda, Coursera, and Varsity Tutors to learn anything on demand.

Software like LMS, Authoring tools, and Virtual Whiteboards to create engaging instructional designs.

Technologies like Video conferencing, Live streaming, Video-on-demand, and Content Delivery Networks to seamlessly share multi-media content worldwide.

Prodigies like online eLearning Marketplaces and Payment Gateways to make money selling online courses.
While offline digital learning has been around for decades, the adoption of online tuition software solutions could only be seen from a few years ago. It was a gradual shift from DVDs to online courses. However, it's not just about the massive popularity of online courses among the learners, but also the B2B market of online tutoring software solutions. A whole new market of LMS, eLearning platform builders, Instructional designing tools, and Video streaming solutions, etc. is on the boom.
Here, in this article, we are going to look into 10 such online tuition software solutions that help in various aspects of eLearning implementation. We will cover the crucial tools that you need to not only create online courses but also collaborate with learners, craft instructional designs, assess learning and make money selling online courses.
Considering different requirements, we have added the following types of online tutoring software solutions in our list:
Video Editors– for creating course materials
Authoring Tools– for Instructional Designing
Virtual Whiteboards– for online collaborations
Learning Management Systems– for course organization, management, and assessment.
E-learning Platform Builders/ LCMS– for sharing and monetizing online courses.
Top 10 Best Online Tutoring Software
1. Apple Final Cut Pro
Uses
For video editing and creating professional video lectures on apple computers
Features
Final cut pro offers a similar interface like iMovie but with lots of advanced features. It's the easiest to use video editing software one can get for professional video editing. It offers extraordinarily powerful tools for 4K, HDR and 360-degree video editing.
There is a massive collection of effects for videos as well as audio. You can select from a huge catalog of transitions and title effects. With inbuilt integrations along YouTube, Facebook, and Vimeo, you cannot get an easier video sharing experience than this. It offers most of the video output formats supported by popular online tutoring software open-source, cloud, or social media.
Price
A flat and one-time price of $299.99
2. Adobe Premiere Elements
Uses
For video editing and creating professional video lectures on Windows computers
Features
Adobe's Premiere Elements is an entry-level video editing software with a user-friendly interface and affordable pricing. Premiere Elements has everything you need to create amazing eLearning videos. It's capable of producing compelling videos using various templates, collages, and slideshows. It supports rendering to normal, 360-degree, as well as VR content.
The latest version of the software is well equipped with professional video editing features such as Candid Moments to trim best still images from a video clip; Smart Trims; freeze-frame; motion titles; bounce-back effect; Animated Social Post; and GIF creation.
Price
Currently available at a one-time cost of $59.99. However, you can bundle it with Photoshop Elements (for image editing) and steal the combo at $89.99 only.
3. Adobe Captivate
Uses
Authoring tool for instructional designing with multiple content formats such as videos, text, images, HTML, etc.
Features
Unless you intend on offering online video lectures, you need another online tuition software called authoring tool to create engaging online courses. An Authoring tool like Adobe Captivate is all you need to design custom instructions with a combo of multiple content formats.
Adobe Captivate can create both legacy flash-based and HTML 5 course designs. You can enjoy almost a plug-and-play experience using ready-made slides and mobile responsive template to create course designs in minutes.
There is a large scope to boost course engagement using advanced features such as personalized interactions, Branching Scenarios, and video overlays. It also supports immersive learning experiences using VR. It's a complete online tutoring software, which not only creates eLearning courses but also lets you assess the learning using True / False, MCQs, Brief Answers, Fill-in-the-blanks, and Matching columns.
Price
One-time payment model: $1299
Cloud-based Subscription Model: $33.99 per month
4. Articulate Storyline
Uses
For course and instructional design using multiple content formats such as videos, text, images, HTML, etc.
Features
The Articulate Storyline is a similar authoring tool like Captivate with comparable features. The only difference is in its user interface, which is more like Microsoft PowerPoint slides. It supports all kinds of eLearning authoring features and offers built-in LMS as well.
You can leverage built-in mobile-friendly templates to create online courses using elements like videos, HTML5, and Text. Two of its most sought after USPs are Auto recovery and Dockable panes. You can easily recover your ongoing projects in case of an unexpected system crash. Moreover, you can dock the panes to track the preview on one screen while editing the course on another.
Price
There are different plans for different kind of users. The latest version of the online tutoring software is called Articulate 360, which is a package of different articulate solutions.
Companies: $ 1,299 per user per year
Personal: Starts at $999 one user per year
Academic: Starts at $499 one user per year
5. GoTo Meeting
Uses
For online collaboration and real-time interactions between learners and tutors.
Features
GoToMeeting is more than just a Whiteboard software- it's a complete business meeting tool. However, its Interactive whiteboard feature is perfect to conduct collaborative online classes. It allows users to share their screen and draw on the screen at the same time. You can highlight certain parts of the screen and draw more attention to. It's like a laser pointer like a real-life presentation. It's a complete online tuition software.
Price
Starts from $14/month (Billed Annually) with up to 10 Participants. However, you would have to choose at least the $29/month plan to get the drawing feature.
6. WizIQ
Uses
For online collaboration, real-time interactions between learners and tutors, and Learning Management system.
Features
WizIQ is a well-known LMS cum collaboration tool. With a complete suite of organization, management, and course sharing features, it also offers competitive and engaging collaboration tools. It can also be used to deliver self-paced classes in virtual classrooms with one-to-one and one-to-many collaborations. It's easier to create online courses in minutes using inbuilt templates, which also support popular course formats such as text, audio, video, PPT, and HTML5.
Price
Custom pricing as per requirements
7. Talent LMS
Uses
Overall learning management with course organization, learner management, and assessment.
Features
If you are seeking a cloud-hosted LMS software for your online courses, Talent LMS is a perfect alternative to choose. It's a complete suite of online tutoring software solutions, which include an LMS, cloud sharing, user collaborations, robust admin panel. With advanced features like multi-organization structure, certification management, and ITL support, it is a seamless corporate training software as well. It comes with inbuilt and easy to use course management, cloud sharing, Monetization, and course assessments features.
Price
The online tutoring software is available under a SaaS licensing model with a free basic plan. However, most of the usable features for business-level usage is available in premium plans, which starts from $59 / month (billed annually) and goes all the way to $479 / month.
8. Moodle
Uses
Learning management system with course organization, learner management, and learning assessment features.
Features
Moodle is an open-source education software. This LMS is well known for its modular design, which tutors can use to build their personalized instructional designs. There are several free and paid plug-ins available for integrating customized workflows, content, learning activities, and new features. The software can be used both as open-source online tutoring software or a could-hosted LMS solution. The cloud-based platform is known as MoodleCloud.
Price
The open-source version is free to use. The cloud version offers various plans to choose as per requirements. Starting from a free basic plan, it goes as high as $ 1000/year.
9. SmartSchool – Udemy Clone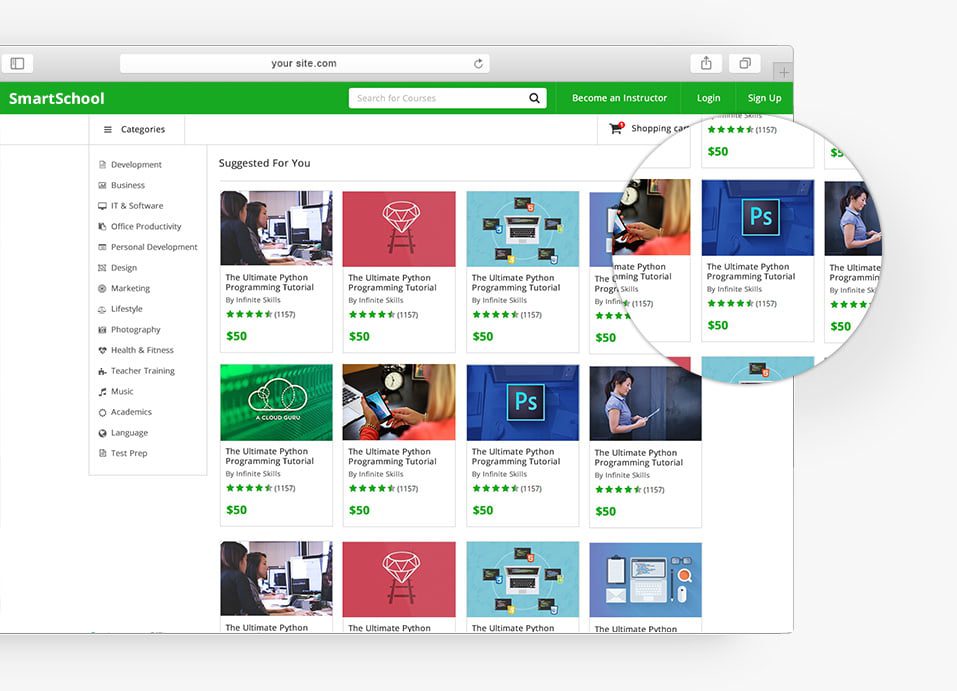 Uses
Creating an on-demand eLearning platform to share and make money selling authored online courses.
Features
SmartSchool is also called as Udemy clone script due to its similar business model to Udemy's eLearning platform. Once you have created your course, if you intend on making money with it, you can use the SmartSchool script to create your own eLearning marketplace. It offers a white-labeled and open-source code eLearning website builder, where you can not only sell your own courses but also invite other tutors to sell their courses. You can monetize your courses by putting prices on them or can simply earn by charging commissions from other tutors as well.
Price
Available with open-source code after a one-time payment of $ 699. You can also choose an advanced package, which offers mobile apps for Android and iOS with the base website script at $ 1499.
10. LiveLearn Varsity Tutors Clone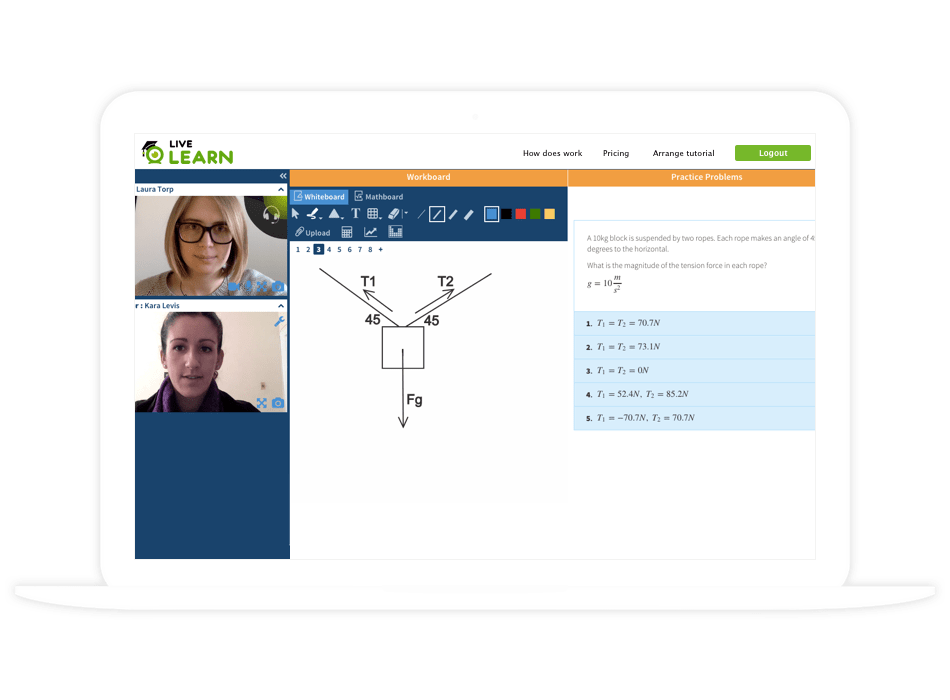 Uses
Creating live tutoring marketplace to conduct real-time virtual classes with video conferencing and interactive whiteboard.
Features
LiveLearn is also a similar open-source education software like SmartSchool, but it supports real-time virtual classes rather than on-demand courses. If you do not want to create online courses and want to earn by simply taking live video lectures on-demand, similar to Varsity Tutors, this script is a useful solution for the same. It offers inbuilt whiteboards software, calendar, and collaboration tools to schedule live tuitions. By default, it supports pay-per-slot monetization model, where students will pay you for each live class.
Price
Custom pricing as per custom business requirements.
To Conclude
Purchasing an online tutoring software is a big decision, don't just go for a popular name. Sometimes, even a single solution can fulfill all your requirements, while many a time, it's necessary to acquire some additional solutions as well.
For example, authoring tools offer basic video and image editing features, but occasionally their features are not enough, and it becomes a necessity to acquire a standalone video editing tool to create good videos.
Consider your requirements first and tally them with available solutions on the market. Not all popular solutions are a good fit for all kinds of requisites, business goals, budget, or ROIs.