What Is Learning Management System, Its Features, And Advantages Of Using LMS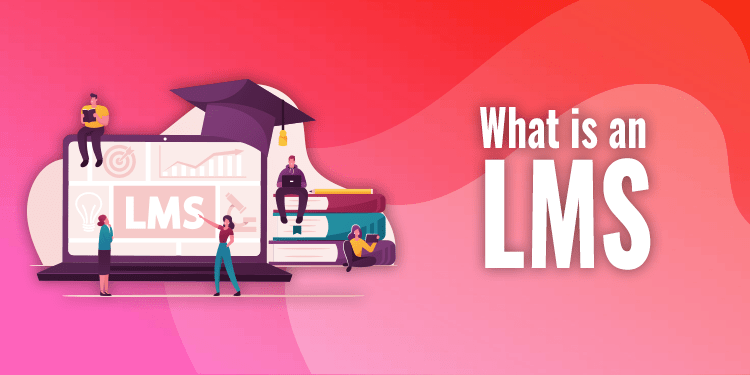 Learning management systems are an important part of the eLearning platform and the development process, especially if you have a large audience base and plenty of courses to deliver. 
An LMS helps to deliver online training materials and support skill development within your organization. These systems can be extremely beneficial, but it can be a challenging task to choose the right LMS. 
An LMS is helpful to business leaders, administrators, and employers as it helps them to create, distribute, and track online training resources efficiently and effortlessly. 
The Main Functions Of An LMS
Now that you know what is a learning management system, you must also know the main functions of an LMS, too. The role of an LMS in education differs according to the online training strategies objectives and goals of the organization. 
Whereas, the most common benefits of LMS is to track online training. Online training resources are uploaded to the LMS, making it easy for the global learner base to access the assets. 
Some LMS may even feature built-in eLearning tools that help you create online training resources without the need for any third-party software. 
Consider an LMS as a vast repository that allows you to store and track necessary online training information. Any users with a valid login and password can gain access to these resources whenever needed. 
Facilitates Efficient Online Training
One of the main benefits of LMS is to facilitate online training and allow learners to participate in online courses. In short, an LMS solution generates, distributes, and tracks learner training. 
Organizations invest a lot of money for a single employee training. Hence, it makes sense for these organizations to use LMS which are designed to engage learners to generate, distribute, and track training. 
No organization would like to invest money in online training solutions with a weak ROI. LMS-based online training is interesting and engaging and increases knowledge retention and decreases the amount of time learners spend on training. 
Reduce The Cost Of Training
While facilitating training is the most crucial advantage of LMS, reducing training related expenses are an additional benefit that budget-conscious online teachers and corporates would love. 
Indeed, LMS isn't cheap, but it can decrease an organization's overall cost over time. It is because the LMS eliminates the need for educational brands to rent learning spaces, pay instructors, and pay for paper-based learning resources required for training. 
Who Uses LMS?
From course registration to administration, tracking the progress of students, and analyzing their performance, an LMS makes eLearning not only viable, but also measurable with positive outcomes. 
When it comes to the users of LMS, anyone can use it. But here is the comparison of who uses LMS and its type of application. 
Educational Institutions 
Colleges and universities leverage LMS to deliver online courses to students. Educational institutions also use LMS to expand their learner base or their on-campus resources by targeting students outside their traditional reach. 
Businesses For Employee Training
The HR department can also use LMS to offer training to their employees and managers. 
An organization usually leverages LMS to advance the skills of their key resources or as a requirement to promote them.
Corporations For Customer Training
Corporations also use LMS to train their customers with the necessary information and materials they need. It is also great for guided onboarding something that is essential for helping your clients launch new software. 
By using an LMS, you can provide an excellent customer training experience so that they will continue to trust your brand and become your advocates.
Healthcare Industry
Healthcare is an industry that is reinvented over and over, taking technological advances as a pillar of development to deliver a more competitive and advanced service. 
An LMS solution facilitates the students to learn anywhere, anytime, and respond quickly to new training trends and demands. Hospitals can use an LMS to continually stay competitive and improve patient care. 
A well-implemented LMS will help medical institutions to organize online training, measure the progress of learners, and enhance the learning experience which will also reduce the overall cost. 
Advertising Services
With advertising services going digital, there is a constant need for advertisers to catch up with the pace in the ever-evolving digital landscape. The usage of the LMS in advertising can help to generate more qualified leads at an affordable cost.
Government Agencies
Employees in government agencies must stay updated with the latest rules and regulations. It is also important for them to improve their skills constantly to serve the public. 
Implementing custom-tailored LMS in government agencies helps in self-guided online training, automatic enrollment, robust reporting localization support, and accessing micro-learning online training repositories. 
Learning Management System Benefits
In the simplest form, an LMS is a software solution for distributing and managing online learning courses and use it as a repository to store them. 
Today, LMS solutions have transformed into a sophisticated cloud-based solution with a growing list of features and functionalities facilitating collaborating learning. A well-implemented LMS has several advantages, let's look into the major benefits of LMS. 
Centralized Learning
One of the major benefits of the learning management system is that it allows you to organize all eLearning content in one location. You can store all of your learning content in a single location rather than having your content spread over different storage devices. 
This helps to reduce the risk of losing important data, making it easier to create and manage your online courses. If you are using a cloud-based LMS solution, all members of your team can access the information, thanks to the fact that it is stored on the remote server.
Unlimited Access To Learning Materials
Once you update your online resource materials in the LMS, your audience has unlimited access to the information they require. Users can access the eLearning platform via the devices of their choice like smartphones and tablets. 
An LMS is also essential for a global audience in different time zones to access online training courses and related tasks at their convenience.
Ability To Track Learner Progress
The advantages of LMS include the ability to keep track of the learning progress and make sure that they achieve the performance milestones. 
If a student is not able to successfully complete an eLearning course, you can offer them supplementary learning resources to improve their performance of the learning process. 
Most LMS solutions feature analytics tools that allow you to find out the area of your online course that needs improvement. If you find out that many of your learners are struggling to get through a specific lesson or a course, it means that you can make modifications to your content. 
Reduces Learning And Development Costs
Implementing an LMS in the education industry will allow you to cut off the travel costs, online training saves costs related to rentals and printed learning materials. 
As online trainers can carry out all the training online, you can save a good amount of money on your learning development and training budget. 
For example, you don't have to worry about printing all the learning materials and booking space for conducting online classes as all the information your students require can be updated in the LMS and the instructors can teach students online. 
Easily Integrate Social Learning Into Your Learning Strategy
An LMS makes it easy to integrate social learning into your eLearning strategy. As the LMS solution is already online, you can integrate links on social media networks like Facebook pages, Twitter pages, and LinkedIn groups and forums where your learners engage. 
You can also consider promoting your online courses on social media platforms to attract new students as well as create eLearning exercises and tasks that focus on learner collaboration and engagement. 
Monitors Learner Progress And Performance
As already said, almost all LMS solutions come with built-in analytics and reporting tools that allow you to track different aspects of your online training. 
When browsing through the different types of learning management system, choose the one that features reporting tools, or else you need to buy add-ons or plug-ins to boost the functionality of your LMS further. 
With in-built analytics, you can track and monitor learner progress and performance. With this, you can also identify different eLearning patterns and trends especially if the LMS comes with data visualization tools like charts and graphs. 
Improves Resource Allocation
Another benefit of a learning management system is that it helps you allocate online training materials more effectively. For example, an LMS improves resource allocation making it easy for you to find the important aspects of online courses that aren't meeting expectations. 
Low learner engagement is one of the major indicators that you must re-evaluate an online training course or task. Additionally, LMS also allows you to update your online training resource more effortlessly. 
The LMS allows you to deploy and track online courses without any geographical restrictions. As long as your learners can log in to the LMS, they have the opportunity to access the eLearning resources to expand their knowledge and skills. 
Personalizes The Online Training Experience
With the help of an LMS, you can personalize the online training experience to your learners. Each learner gets access to personalized learning they need according to the learning goals and other significant criteria. 
You can also integrate an option to unlock the navigation so that your learners can choose their online training coursework and activities. All this helps to facilitate an effective online learning experience and better learner satisfaction. 
Improves eLearning Accessibility
Modern learners of today expect online training resources on demand. As we live in a digital era, where information is always accessible at fingertips, thanks to smartphones and digital devices.
Different Types Of Lms
Now that you know what is the meaning of LMS, why you should use one, let's look into different types of learning management systems. 
Cloud-based LMS or SAAS Solutions
These types of LMS solutions need not be installed in order to access it as it is hosted on the cloud server. Learners can log in to a web portal with a login id and password to access the features of the cloud-based solution. 
The LMS system will be maintained by the vendor to manage all necessary technical updates and upgrades. As you need not have to install any software which makes it easy for organizations to get started as soon as possible. 
One of the disadvantages of cloud-based LMS is that it cannot be customized. There are fewer opportunities to integrate branding or customize the dashboard. 
Self-hosted LMS Platforms
Self-hosted LMS solutions are the ones where you need to download the software directly from the vendors site. Self-hosted LMS solutions allow you to have better creative control customization. 
The only thing is that you might have to pay for the updates, and the system might require the know-hows of IT. But, if you choose a solution that offers great customer support, you can get full guidance from start to finish. 
Features Of The Learning Management System
The abundance of available LMS features makes it difficult to decide which is essential and which is not. The ability to streamline the delivery of employee training is an important element of successful organizations. 
According to the training industry report, over 46% of participants said they bought learning technologies to train their employees. 
To grow your business and get a better ROI, it is important to choose the right LMS solution. You must have a good understanding of the training goals and objectives of your business when choosing an LMS. 
To make the decision process easier, here are some of the important features of the learning management system you must look for. 
Ability To Create Elearning Courses
An efficient LMS would allow instructors to create engaging and interactive courses that have a combination of relevant text, images, audios, video, etc. 
Learners must also be able to communicate and engage with their instructors which makes learning more personalization and interactive. 
Responsive Design
Every LMS must be responsive enabling you to create a master layout for your courses. It must feature a responsive design that works on all devices including desktops, laptops, smartphones, and tablets to access the learning materials. 
The LMS you choose must automatically display the most suitable version of online training courses based on the user's device. 
Intuitive User Interface
The LMS you choose must feature an intuitive user interface that supports your learning skill sets and abilities. Before choosing an LMS solution, take advantage of free trials to make sure the LMS is user friendly. 
eLearning Assessment Tools
The LMS must integrate a broad range of built-in eLearning assessment tools for efficient eLearning assessment tracking.
Gamification Features
Your LMS needs to have gamification features to actively engage learners in your online courses. Integrate gamification features like points, badges, leader boards, etc so that you can easily incorporate these rewards to engage your learners. 
Reports And Analytics
Your LMS must allow you to monitor your online training activities if they require any improvements. The same applies to individual student performance as well. You must be able to analyze the performance of your learners and understand whether they are engaging with your online training content the best way. 
An LMS must feature powerful analytics and reporting tools that allow you to monitor online training on both individual and group levels.
Compliance And Certification Support
This is another essential feature of LMS for businesses who offer company policy and compliance online training as well as those who require more advanced certification features. 
This will also help you to refer to the LMS records in the event of an audit as well which makes adhering to rules easy.  
Social Learning Support
Social eLearning integration allows learners to interact with peers. Most LMS features integrated social media tools that allow tracking online discussion participation or incorporating news feed to your online course design easy.
Support For Blended Learning
LMS support for blended learning is an essential feature that allows presenting and recording eLearning training, both offline and online. 
Your LMS must also support both synchronous and asynchronous learning and combine both online and offline learning combined in a learning path. 
White Labelling And Brand Integration
Choose a white label LMS solution that offers the functionality of a branded learning management system. It allows you to integrate your own branding to the LMS so that you can have a strong visual identity consistent with your brand.
Localization
Localization is critical for businesses that plan to deliver global online training resources. Look for an LMS solution that features multilingual support and geolocation features that automatically displays the appropriate version of your online courses. 
Mobile Learning
Mobile learning is nothing but the delivery of training resources on mobile devices like smartphones or tablets. As mobile usage increases, your LMS needs to have integrated support for mobile learning so that they can access your online courses adjusted to different screen sizes. 
Conclusion
When choosing an LMS solution, keep in mind that there is no one-size-fits-all LMS. Each business has unique training needs, goals and objectives, and budgetary considerations. 
Hence, you need to do your homework to choose the LMS that meet your requirements and benefit both your business and corporate learners. If you need assistance in choosing a customized LMS solution, we can help you create one tailor-made to your requirements.
Further articles to check out:

How to start an eLearning business