Top 10 Online Learning Platforms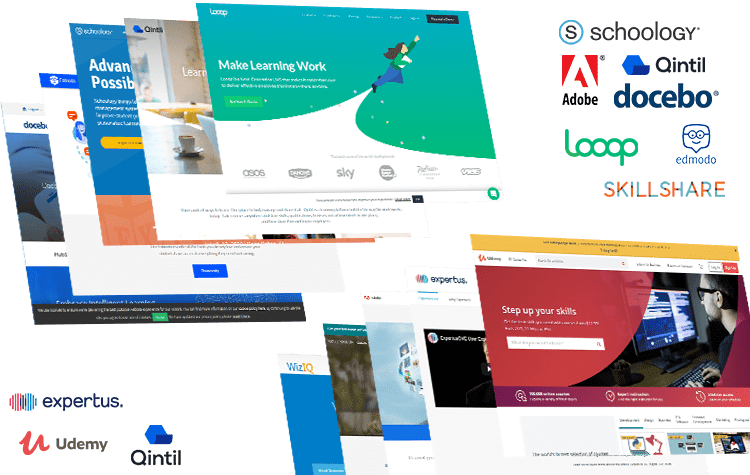 There's a world of difference between achievers and losers. Losers fail to learn from their failures. Achievers are lifelong learners. Achievers know the importance of continuous learning. Organizations and businesses love to recruit achievers.
How to stay relevant?
To stay relevant in this intensely competitive world. Employees should acquire new business skills, enhance their existing skills, take up challenging projects and fulfill expectations.
Offsite Training Programs
Not so long ago, organizations used to vouch for offsite training programs. Programs would usually run for not more than a couple of months. Not only were they expensive, but also ineffective.
Learners used to forget almost everything within a month of course completion. Organizations were unable to witness any significant return on investment. As a consequence, organizations started embracing online learning platforms.
Online Learning Platforms for Businesses
In the last decade, numerous online learning platforms were launched. Many MOOCs (Massive Online Open Course-ware) was launched. Not only organizations but also students and educational institutions can benefit a lot from MOOCs.
Given the multitude of options, choosing the best online learning platform is undoubtedly elephantine. Don't worry.
This article throws insight into the best online learning platforms in 2019.
Let's dive in.
#1. Docebo
One of the best online learning platforms for schools which facilitates collaborative learning. It has numerous features to help you distribute content, schedule assignments and accelerate formal and informal learning.
Employees, students & learners can ask questions and get answers from relevant subject matter experts
There are ample knowledge-sharing features
Administrators can use Docebo Perform tool to identify competency gaps.
The design is sleek and UI (User Interface) is easy-to-use
Many third-party integrations are supported.
#2. Schoology
The list of online learning platforms for students is incomplete without Schoology. Schoology is known for its extensive LTI (Learning Tools Interoperability) support.
The design is completely user-centric. Feed is Facebook-styled. There's a provision to view the recent activity. This is useful for students to see their latest assignments, projects, announcements, etc.
Schoology facilitates blended learning. Instructors can create folders, and make them visible at certain dates.
Its AMP (Assessment Management Platform) lets teachers organize graded and ungraded tests and quizzes. Different types of questions such as Fill-In-the-Blank, Short Answers, One Word Answers, etc., can be created
Basic features can be availed for free. There's an undisclosed fee for availing advanced features
Awesome mobile support
#3. Edmodo
Questions are often asked as to which is the best online platform for schools, districts, teachers & students. My answer is Edmodo.
For all intents and purposes, Edmodo is a social learning platform. In other words, it lets you build a community of learners and educators across your district(s).
Edmodo gives you a free admin account. You can activate it. Thanks to its secure web address, you can connect seamlessly with parents, teachers & educators
Teachers and trainers can set and accelerate learning goals, deploy and manage digital content assets, and monitor the progress of students on school/district dashboard
An interface is user-friendly, highly customizable and completely extendable
Generous third-party integrations and widgets to create engaging learning experiences
#4. Qintil Learning Manager
This online learning platform lets you import its SCROM compliant courses. Companies and organizations of all sizes can use Qintil Learning Manager to offer automated and high-quality training.
Has instant reporting features that throw a real-time insight into the progress of learners
Has features to document every quiz that employees have taken. It has features to document their results as well
Has features that enable employers to distribute content to their employees
Excellent compliance dashboard
Numerous options to customize reports and export them into Microsoft Excel
#5. Looop
If you are looking for an online learning platform that brings your employees together in a workspace and encourages them to adhere to your organization's best practices, Looop is most likely to exceed your expectations.
Looop has ample features that assist in Manager Development. Managers can learn how to do the job, find out what works and what doesn't, follow established procedures and paths
Real-time user tracking features
Cloud hosting is secure
Delivery is mobile-ready
Looop lets you create multiple questionnaires and automatically generates performance reports of learners.
#6. Adobe Captivate Prime
Adobe Captivate Prime is simple and straightforward. There are no redundant features. The interface of this online learning platform is so highly intuitive that you do not require any special training to understand and explore its cutting edge features.
Has plenty of gamification features like leader board, badge, etc.
Supports multiple ways of adding users. You can add users by uploading their profiles from a spreadsheet
Has features to enable administrator/trainer create groups of learners based on geography, business unit, etc.
Multi-format content support – videos, PPTs, Excel, Doc, etc.
You can host certifications either internally or by a third party
#7. ExpertusONE
This learning platform endorses social and collaborative learning. It lets you download content for offline viewing.
Other features:
Recognition based gamification features
Powerful and state-of-the-art built-in conferencing module
Modern and scalable architecture
Secure and private cloud hosting
Powerful and high-performance APIs that let you manage multiple commercial training programs
#8. Udemy
Udemy has been one of the best learning platforms in 2018. Its reputation has no boundaries. Un-astonishingly, it is one of the best learning platforms in 2019 as well.
A huge community of 15+ million students
Hosts over 65000 courses. It's easy to infer that the site architecture of Udemy is not only horizontally scalable but also vertically scalable
Excellent features to monitor user behavior
Profitable revenue model – focus on tiered revenue share
Micromanagement features
#9. Skillshare
Skillshare is the ultimate learning platform to learn niche skills. As a matter of fact, it's a community for creators.
Multiple reporting tools
Ideal for learners interested in film and writing, photography, designing, art, etc.
Handy tools to automate everyday tasks
A network of more than 3 million people. A vast majority of them are freelancers
Every class/session has a live project or assignment
#10. WizIQ
WizIQ lets teachers and trainers create and deliver polished and professional courses. To ramp up students' enrolment, WizIQ lets teachers convert their courses into MOOCs.
Advanced customization features – logos, themes, colors, notifications, etc
Cross-platform support – iOS and Android, mobile ready
Easy to create branded, copy-righted and self-paced courses
Virtual classrooms are an absolute bliss
Proactive customer support
That's it. You now have the list of online platforms. Understand your functional and non–functional business requirements. Take multiple parameters and features into consideration. Prepare your own draft of online learning platforms comparison.
Be prudent. Pick a learning platform. Start learning. Start teaching. Keep acquiring and sharing knowledge. Knowledge is divine.