What Software Should be used to Teach Online?
Benjamin Franklin once said, "Tell me and I forget. Teach me and I remember. Involve me and I learn." Teaching is a lovely profession. I take pride in being a teacher. Mankind has evolved consistently and every second day, there is disruption in almost every domain. We are inching towards new developments. One such phenomenal developments in education space is the use of technology to teach online. This insightful article throws light on what software should be used to teach online by using the online teaching software.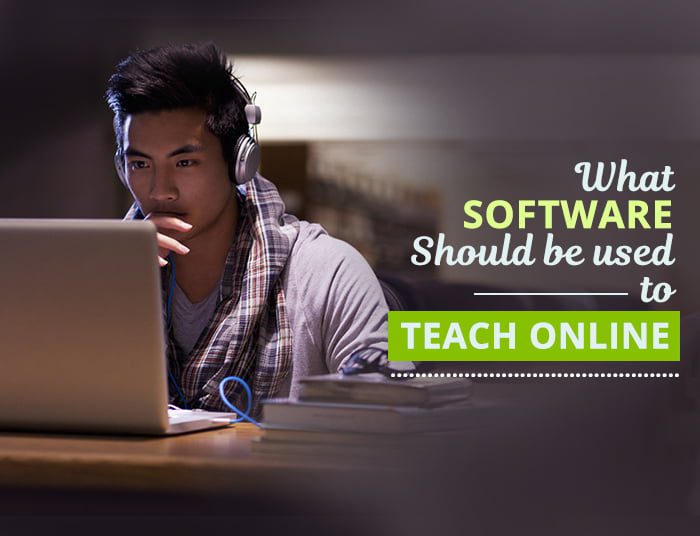 Movenote
Movenote is a versatile video presentation tool that facilitates both blended and flipped learning. It can be used for everyday messaging as well. Due to the presence of diverse features, it is used in sales and marketing, business corporations etc. Once you record your presentations, you can share them online by email and social media. What all you need is to share a simple link. Anybody who has access to that link can view your presentations. As everything is stored on a cloud server, videos can be accessed from anywhere practically. You also get a statistics tool that will help you view who all and when they have watched your videos for your software for online teaching.
Movenote videos can be watched on desktop computers, laptops, iOS, and Android devices. In addition, Movenote can be used from Gmail and Google Drive. Viewers need not have Movenote installed on their systems.
Screencast – O- Matic (SOM)
Screencast – O- Matic is a recording software or tool that allows educators, students, instructors, businesses, gamers and anyone to capture their computer screen and incorporate audio. Once the screen is captured, a video file can be created and saved. It is therefore important you have a high quality computer screen with pixel perfect resolution. Otherwise, nobody will be interested in watching your videos. Screencast – O- Matic is available in two versions- Free and Premium. Free version allows only 15-minute recordings. There is no provision for longer recordings. Moreover, all the videos recorded shall have Screen – O- Matic watermark. Premium version of this recording software comes with a lot of features such as a provision to publish to Google Drive, Vimeo, and Dropbox. Apart from this, users get the privilege of removing the watermark as well. The premium version is available at just $15/year.
Fedora
This is yet another comprehensive technology platform that allows users to teach and subsequently sell online courses from their own website and many consider it as a best software for online teaching. Right from handling content hosting to payment processing, every aspect involved in seamless delivery of content is taken care of. Instructors need not bother about the hassles involved in courses hosting. They just need to focus on teaching and tutoring. Thanks to Fedora, amazing student support is always in store. Marketplaces such as Udemy and SkillShare do not give complete ownership to instructors. Sometimes, such marketplaces do not give partial ownership under a few circumstances. On the other hand, Fedora always ensure complete ownership. This ensures effective branding of the courses and instructors. Mobile learning, asynchronous learning, blended learning etc. features are incorporated in Fedora.
GoToWebinar
Most of the courses listed in marketplaces such as Udemy are recorded. As a result, there is no dialogue but monologue. The absence of interactive learning is strongly experienced by students. This may further deter students from enrolling in such courses where there is little or no interaction. GoToWebinar addresses this problem. If teachers intend to teach students "live", then GoToWebinar is the go-to tool. There is a free 30-day trial. Do try the free version before purchasing the premium version of software for online teaching.
GoToWebinar has many features, some of which are discussed below:
Email Automation: This feature lets you create custom email invitations and confirmations. This feature can also be used to send reminders. There are various automated email templates as well.
Mobile Support: GoToWebinar is available as an app on both iOS and Android platforms. As a result, you can edit all the upcoming webinars and plan accordingly.
Lead Management: You can integrate GoToWebinar with CRM (customer relationship Management) software and handle lead generation and event creation.
Custom Branding: By leveraging this feature, you will be able to display your custom logo and image on all webinar materials.
Practice Sessions: It is important to rehearse and practice presentations. People do not like adhoc presentations. This feature minimizes unwelcome surprises.
Recording: After organizing a live webinar, participants may want to refer to the Webinar. This feature lets you record your webinar along with the audio. This comes as a boon to those people who haven't attended the webinar sessions.
Audience Interaction: This feature of GoToWebinar lets you create surveys. The number of questions per survey is limited to 20. You can create as many as 20 surveys on-the-fly.
HDFaces Video Conferencing: This features lets up to six presenters to share their webcams and participate in face to face sessions.
Real Time Analytics: This feature lest you monitor the webinar attendance. In addition, you also get to know how many have vouched in favor of a proposition and how many haven't.
Network Security: Thanks to this feature, your log-in information and webinar data are always safeguarded.
Multiple Presenters and Panelists: More than one presenter is allowed to administer the webinar session.

   
Learnyst
Learnyst lets you create online courses. The content of the courses is encrypted and stored in a secured cloud. Whenever students with access privileges access the content of courses, the content is decrypted. As a result, scope of piracy of the content is almost zilch. Learnyst lets you sell courses online or also to classroom students. Courses can be bundled with mock tests. All the payments shall be transferred directly to your back account. Moreover, to reach out to your target audiences, Learnyst is integrated with Email and mobile marketing tools. It is therefore easier to engage, retain and convert customers.
Pinlearn
Started by a team of e-learning experts and proven growth hackers, this upcoming software helps you create and manage online certification courses. As a matter of fact, it helps you start your own online school and issue certificates. Right from uploading documents to tracking the progress of students, Pinlearn is endowed with features such as discussion forums, FAQs, webinar session modules etc. This software is completely affordable and Pinlearn takes care of hosting as well. Moreover, content ownership rights are never seized.
If you have any queries regarding the e-learning and e-learning software, drop a line or two in the comments section. I will be happy to help you. Cheers!