How Skillshare is Changing the Face of Design and Lifestyle Courses in the World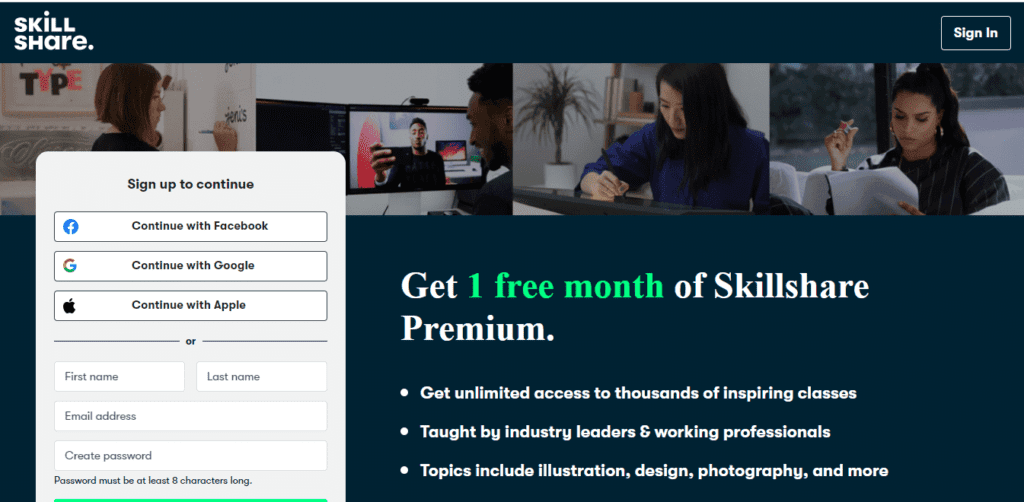 The mention of online courses normally conjures up a picture of remote learning, a user's face plastered to a computer screen, rapt in attention. Yes?
Not really. With the advent of so many new-age ed tech ventures aiming to captivate your imagination and inspire you through learning, the world of online learning has come a long, long way. Skillshare is proof of that.
What is Skillshare?
An online knowledge community created exclusively for creators, Skillshare folds in courses from myriad walks of life. Entrepreneurship, creative arts, design, photography, technology, culinary and business are just some of them. As Skillshare puts it, they're here for two reasons. For your career. For your passions.
How is Skillshare Different?
Skillshare's courses aren't accredited, and yet they are very successful. The platform promotes like-minded communities and learning happens through sharing and interaction, rather than through lectures. Most courses entail a project of some sort, that learners must get through to be able to complete the course. How is it different? Skillshare isn't targeted exclusively at professional skills. It treads a line between passion and profession, blending in a mix of skills that learners may want to pursue for pleasure or career. It also offers an offline learning feature, where you can download a class in advance and access it offline later. With over 2 million students and over 14,000 courses, the portal is a popular e-destination for learners.
How Does Skillshare Make Money?
The golden question; how does Skillshare monetise its platform? Skillshare operates like a marketplace for teachers and students. Anyone can upload a course for free on the platform.
Back in The Day
When it started, Skillshare sold its courses on an à la carte basis. When a course found a student, Skillshare would take 12% of the course fee. Essentially, the teacher would make 87% of the total course cost, minus a Paypal transaction fee. And considering that a teacher didn't require any formal training or qualification to be able to be a practitioner in a specific field, that meant that just about anybody could start earning on Skillshare overnight.
Now
Skillshare has tweaked its business model since its inception. Now, it operates like a buffet. Think of it as the Netflix of knowledge, where you are free to consume as many courses as you want, for a monthly fee. Skillshare allows users to peek into a course for free, just to get a taste of it. However, a full course is available only on Skillshare's premium platform. It offers the following packages:
Monthly billing at $15/month.

Annual billing at $120/year.

Exclusive billing for teams, calculated at a custom rate and billed annually.

Skillshare allows a 1-month trial period to customers.
What is Skillshare's Technology Stack?
Skillshare's technology stack is robust, but not extraordinary. With layers comprising nginx web servers, PHP and Backbone.js, its interface provides flexibility to customers to access courses from their tablet screen while riding the subway, while just as easily from their mobile phone while riding an Uber. But the experience and interface that Skillshare provides can be easily replicated to any platform, quickly and economically, thanks to an exclusive technology called Pinlearn. Pinlearn has gained prominence in the e-learning space, with many educational startups opting to employ the technology. With technology layers matching those of many large names in ed tech, Pinlearn is a go-to if you're looking to set up a Skillshare of your own, perhaps for a specific niche or region.
How Can You Dig Your Toes into An Opportunity Like Skillshare?
Skillshare is singular in its approach. It doesn't boast fancy courses by qualified instructors. It doesn't focus on a specific niche. It is open, and believes that everybody harbours a talent that can be shared with the world. The market for soft courses is set to expand in the next ten years. Unconventional skills are valuable and Skillshare propagates that thought.
Get Inspired by Other Brands Like Skillshare
There are other brands that have claimed their share of the arts and design skills landscape online. Tuts+, for example opens its doors to learners, who are free to explore its vast library of online courses for a fixed monthly subscription fee.
With  courses including Photoshop, InDesign and DreamWeaver, the platform focuses on developing skill sets for freelancers, professionals and amateurs alike.
Go Solo on Your Entrepreneurial Journey
The real inspiration, though, lies in solo entrepreneurs who have taken a path like Skillshare's, tapping on the opportunity that still exists in the digital skills market. Leah Kalamakis is an entrepreneur and the founder of The Freelance to Freedom School (FTF). Unlike Skillshare, where anyone can become a teacher, FTF is an online school that features courses designed by Kalamakis, on subjects that focus on scaling a business from fledgling to fabulous. It really goes to show that anybody can share skills with learners. All you need is a platform, which Pinlearn provides. In the next 10 years, with blockchain and cloud badges set to replace traditional school certifications, skills acquired through online courses will become increasingly relevant. Here's what you need to do before donning your entrepreneurial hat:
Decide on what skills you would like to feature on your website.

Decide whether you would like to go solo with your courses, or open a marketplace for teachers to upload courses on pre-determined skills. Don't worry about the technology here; Pinlearn can help you with both.

Zero in on your monetisation plan. You could decide to charge users monthly for unlimited access to all your courses. But for this, you need to have enough content available for consumption. A fixed monthly commitment should equal a lot of value addition. Alternatively, charge customers per course that they purchase. You could also introduce an advertising space on your website to lure advertisers by way of volumes.

Go big on marketing. Given, you won't have much money to squander on lofty advertising mediums. But you can leverage digital and social media, by using word of mouth through referrals. Keep your social networks updated and garner user reviews. Engage with influencers and collaborators to talk about you on their platforms, and tap the power of live streams on Twitter and Facebook. There's a certain excitement that live streaming always generates.

Curate your platform!
Skillshare has shown the world that online learning isn't all bow ties and boardrooms. Learning isn't limited by traditional academics, and there's a future in everything. Find your future in online learning. There's always someone waiting to learn.