Moodle – Learning Management System Review
Moodle is an acronym for Modular Object Oriented Dynamic Learning Environment.  It is a new and novel educational Learning Management System software. It comes with various shades and colors of modules. While Moodle is undoubtedly feature-rich, it contains everything to embolden the cohort of learners, developers and educators. By representing itself as a free and open source initiative, Moodle has made its glacial presence even more evident. Educators share insights of enlightenment and Moodle helps learners, participants and students procure the enlightenment.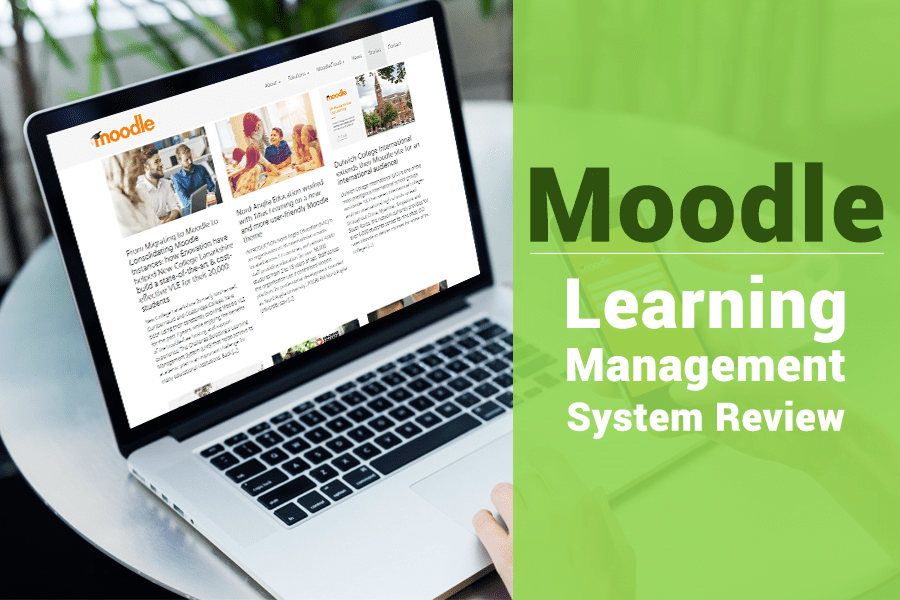 Moodle can be used for both commercial and non-commercial projects. To all intents and purposes, it can be customized and modified for online learning management system. Thanks to the presence of interoperable plug-ins and modules, the pursuits of assessing, reporting and instructing are no longer laborious.
The Vast Outreach of Moodle

Let me run some numbers for you to illustrate the vast outreach of Moodle. Moodle has the patronage of nearly 90 million users sprawling across diverse fields such as medicine, higher education etc. The governments of nations such as Spain, Colombia, and Russia advocate Moodle for its scalable, customizable and secure features. Moodle's developer community finds a mention here- It has always played and is consistently playing a vital role in contributing to projects in more than 120 language localizations.
Moodle- Is it a viable option?
The free version of Moodle is not an exciting option for a lone faculty member. It comes with plenty of restrictions and more often than not, lone faculty members are forced to comprise on a variety of features. Of course, administrators can still enable a few advanced features such as Single Sign On etc. However, that requires them to perform the so-called granular configuration. Moreover, the free version of Moodle is not a turnkey LMS. Hence, the notion of an integrated marketplace can be dismissed unequivocally.
To create a blended version of courses on the free version of Moodle, educators and instructors should seek the help of IT department. As an alternative approach, they may accost Faculty Technology Center to address issues regarding administration, configuration and support.    
Technologies used
This open source learning platform has been consistently listed in the top 20 best LMS tools. While this ranking can be attributed to many factors, one factor that cannot be discounted is the platform on which Moodle is built on.  Moodle is built on the most reliable technologies- PHP, MySQL and Apache. Moodle leverages object-oriented programing to ensure that users can proceed at their own pace.
Dashboards
Moodle is known for its content-centric dashboards. Let me mention a sentence about the default course overview. The center of the dashboard is occupied by the course overview. At the left of the screen, there are options for navigation of the screen. At the right of the screen, there are blocks for news.
Customization of Dashboards
As far as the customization options are concerned, users can customize the dashboards by either moving the existing blocks or by adding new blocks. Of course, they are at liberty to delete and modify them as well. The three recent versions of Moodle- 3.0, 3.1 and 3.2 have a convenient reset button.
Configuration of Dashboards
We tried to configure the dashboards as per our whims. While Moodle claims its dashboards to be drag and drop, they are not drag and drop in their entirety. Configuration requires practice and reconfiguration takes time. Coming to the visual panache of the dashboards, nothing short of the word 'brilliant' can describe the aesthetic excellence.
Themes
Moodle comes with two types of themes:
Standard Theme

Custom Theme
Standard Themes cannot be tweaked. On the other hand, custom themes can be tweaked and the background colors can be changed. Users can upload logos. They can add footers. There is something endearing to tech-savvy guys- They can tailor dynamic themes easily.
Moodle dashboard themes are perfectly compatible with almost each and every browser and device. Dashboard themes are completely responsive.
Mobile Apps
The number of smartphone users is increasing. Every smart phone user is an audience of Moodle. To cater to the requirements of 2.16 billion smart phone users, Moodle offers apps for iOS, Android and Windows Phones.
Roles
Administrators of LMS can assume various roles and capacities. Site administrator is the highest capacity. At the next highest level is the Manager. Managers and site administrators can manage the entire platform. They can monitor and approve newer registrations- be it educators or leaners.
Other roles are enlisted as follows:
Course Creator

Editing Teachers

Non-editing teachers

Students

Guests
Course Creators
Course creators can create various courses. These courses should be approved by the site administrators. The courses should adhere to the rules of LMS and comply with the regulations.
Editing Teachers
Teachers who edit the course can also tutor the participants. They can make modifications (add or delete content) to the existing course. Teachers can track and report the progress of the students' performances. After the course completion, they can evaluate the performance of the participants and subsequently issue a certificate.
Non-editing teachers
As the name suggests, non-editing teachers cannot edit the course. They can only post grades and reports.
Students
Students can participate in virtual class room sessions. They can avail the features of LMS reserved to them such as assignment completion, discussion forums etc. They can also download the documents and notes available in the Documents module. Students can rate the courses and their ratings and reviews will serve as the benchmark of course evaluation on the LMS learning management system.
Guests
Guests cannot participate in course creation or classroom discussions. They can only view the various available courses. They get access to LMS content only if they register either as a participant or an instructor.
Activities and Packages
Moodle supports as many as two dozen-course related activities. There is this Zip package that contains all the files needed to make e-learning content. In e-learning parlance, it is called SCROM. SCROM stands for Shareable Content Object Reference Model. Apart from using SCRUM packages, administrators can add resources by using tools called IMS Global Learning Consortium
Tools.
Controls
In Moodle, there are various controls that facilitate integrated message servicing and commenting. Apart from this, instructors can conduct polls and surveys. Surveys can be used either for feedback or evaluation or both.
Discussion Boards
Discussion boards in Moodle essentially are of two types:
Asynchronous discussion boards: These include forums and small communities.

Synchronous discussion boards: One-one chat box feature forms an integral part of synchronous discussion boards.
Most of the entire communication is facilitated through Moodle's JavaScript editor called Atto. In Moodle 3.0 and its successor versions, Atto has acquired many mathematical operations. And yes, it has many table formatting controls such as colors, sizing, border styling, etc.
Assignments and Assessments
Instructors can conduct assignments in various formats such as multiple choice questions, one-line responses, short responses etc.  When it comes to uploading files such as documents, images, audio and video clips, students enjoy flexibility. Of course, the site administrator has to install a few multi-media plugin to facilitate this.
In Moodle 3.0 and successive versions, there are a host of new assessment options that include dragging and dropping images, text, peer assessment activities etc. with the help of learning management system software.
Thanks to Workshop Planner Tool, teachers can conduct online workshops, webinars and solicit feedback from the students.    
Bottom Line
If you are looking for a hosted Learning Management System with round the clock support, Moodle is not for you. Again, if you are looking for a turnkey LMS, Moodle may not be the perfect one. However, if you are looking for LMS that is feature rich, flexible and customizable, Moodle should be your best bet. You should take care of IT infrastructure though. As far as the customization, user-interface, seamless navigation, themes and dashboard are concerned, we give full marks to Moodle.
If you have any concerns regarding LMS, drop a line or two in the comments section or hit me up on contact@pinlearn.com. I will be more than happy to address your queries. Cheers!