Comparison of SaaS vs Custom Solution of e learning platform[Infographics]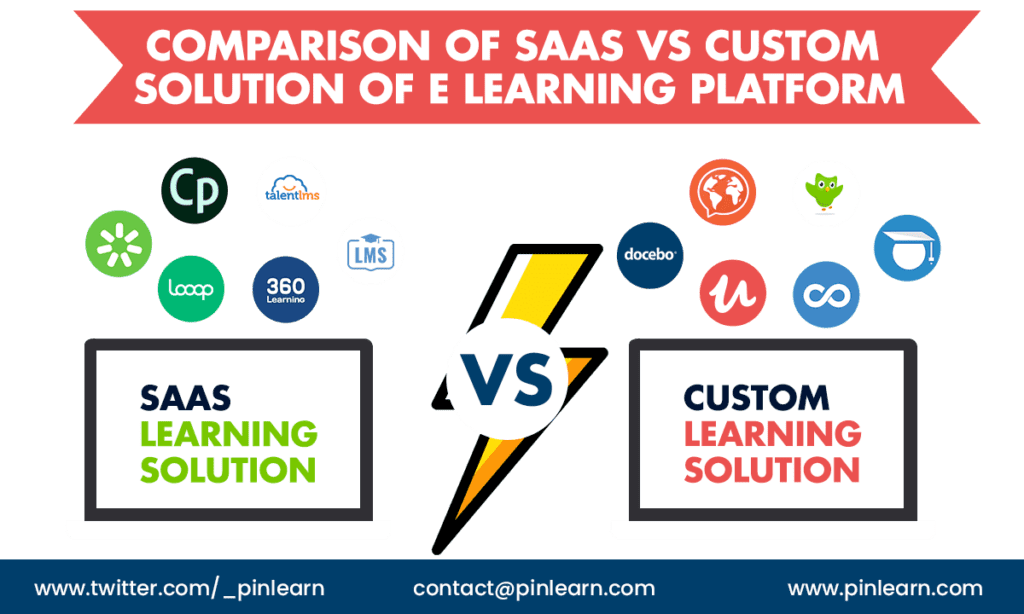 SaaS Learning Solutions:
SaaS has become a fashionable word across the tech industry in recent years. Considering the eLearning software industry, the SaaS solutions are also know as cloud-based LMS solutions by many. One of the biggest advantages of this software delivery model is, it eliminates the need for having your own or any third-party hosting. The vendors provide the software as already hosted on a cloud server with additional benefits like regular software updates, troubleshooting, and maintenance support. Of course, they charge a recurring monthly subscription fee in return to so much they provide you in a single package.
Let me explain the advantages and disadvantages of different delivery mechanisms of a web-based e-learning platform in prior before building an e-learning website.
The monthly cost of a SaaS platform is minimum. This completely depends upon the user-tier basis. For example, if a user wishes for maintenance and customized LMS solutions. The payment will depend on what type of customization user wants and how much time and resources it will take the vendors to implement it.

As the software vendor itself is responsible for the hosting services. There may be issues related to security, performance, downtime issues related to the server.

As SaaS learning platforms are pre-built, there is very limited scope for customization. Moreover, you don't get the source code, so you cannot even hire a third-party developer to do the customization. You are totally dependent on the vendor for customization if it's even feasible.

The user generally needs to contact the provider for any related issues.
Custom Solutions:
These are the most resilient option to create an e-learning platform. The user can get the complete ready-made custom LMS without possessing the coding skills with the help of self-hosted scripts.
You can purchase the software from the LMS provider and install it on your web server.
Though it is a time-consuming process, this has many unique benefits in customization and adding features. As custom solutions are develop on open-source architectures, more third-party developers are aware of their tech stacks. As a result, any third-party developer with knowledge of the corresponding tech stack can make his/her API compatible with the solution. For example, a custom learning solution can be made compatible with a third-party authoring tool API or a whiteboard interactive tool like Geogebra.
The scalability of your product is more as the solution is self-hosted. You can always upscale your solution by choosing a more scalable web server host. Moreover, you can also scale your software by updating the code base from time-to-time. You can design the architecture and manage the code, it is ready to install type platform, but is more expensive and time-consuming to build a new e-learning system. As the software comes with all sort of customization, you might have to pay bigger amounts to do the customization. However, it is applicable only if the base code is not enough for your requirements. Most of the times, the base software is cheaper.
Moreover, if you calculate the total cost over an extended period of time, custom solution with one time big investment stands cheaper than life-time smaller subscription costs of the SaaS solutions.
The custom learning management systems allow you to optimize the online training platform specifically according to your needs. You can customize the UI to look better. You may add many features depending on your audience to be most effective. This Infographics presents many such contrasts between the SaaS and custom solutions. Check it out for more information.